Richmond Times Dispatch

John Shinholser understands pitfalls of addiction
By TAMMIE SMITH Richmond Times-Dispatch | Posted: Sunday, July 5, 2015 10:30 pm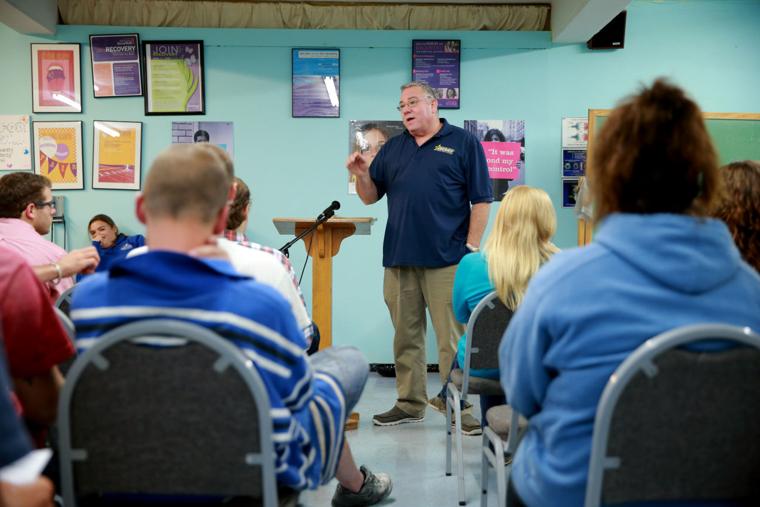 20150704_MET_SHIN_DM02
John Shinholser, center, president of The McShin Foundation, talked about difficulties in recovery from addiction to participants of the weekly meeting at the foundation on Wednesday, June 3, 2015. People in recovery from addiction, their supporters and staff attended the meeting.
John Shinholser has never met an addict who he didn't think he could help.
Having walked in their shoes, he knows the pitfalls of the disease of addiction and, having run a recovery organization for more than a decade, he understands how tenuous sobriety can be.
He can be loud and an in-your-face know-it-all, but the Southern drawl and traces of humor temper the effect.
People who know him say his motives are pure — to bring recovery out in the open and away from shame and stigma.
"McShin is a recovery center. You can come here and, if they need help, we just try to tell them where to go, what to do," Shinholser said recently, sitting down in his office to talk about the program he and his wife started in 2004.
"We do a very good job at it. We're different than hospitals and treatment centers, because you don't have to walk in here and show an insurance card or write a check or pay a fee before you can get to see somebody.
'"We're different than the community providers, the (community services boards) because, number one, we don't have a security guard at the front door. Number two, you don't have to sign in or sign up. Number three, there is no wait. You just come here.
"We've got people, how-can-we-help-you type stuff."
The need for programs to treat addiction is huge. Federal figures show heroin overdose deaths rose significantly over the past decade. Prescription drug abuse is also a societal scourge. According to the CDC, each day 44 people in the U.S. die from prescription painkiller overdoses.
Jails are full of people whose addiction to drugs and alcohol have led them to commit crimes and get locked up.
At the Richmond jail, the McShin Foundation is one of the many agencies that volunteer to come in and work with inmates. McShin offers what Shinholser used to call the McCovery program — it's now rolled into another more comprehensive jail program. Shinholser and McShin volunteers also go into the Pamunkey Regional Jail, and the foundation also works with officials in Caroline County.
"The thing with John, he has been there and he knows what needs to be done in order to affect the recovery population," said Sarah H. Scarbrough, internal program director at the Richmond City Justice Center. She said McShin Foundation volunteers went into the worst tier or unit of the jail and turned it around.
"There were no fights after they started coming in. It was just a complete 180," Scarbrough said.
"They do multiple things. They share the message of hope and provide motivation. They share 'I have been in jail before. I am a recovering addict. If I can do it, you can.' Many of them have no hope; they think there is no way they can pull through this. John shares his testimony, and here's how it's done," Scarbrough said.
"He does get animated," she said. "It's because he is speaking from experience, speaking from his heart. He's passionate about it."
Shinholser, 56, and his wife, Carol McDaid, a lobbyist who spends most of the week in Washington, co-founded the McShin Foundation recovery community organization after both had dealt with their own addictions and had maintained recovery for a long time. The organization's name is a blend of the first letters of both their last names. It operates in space at Hatcher Memorial Baptist Church on Dumbarton Road in Henrico County.
Shinholser gave up alcohol in 1982. For McDaid, it was alcohol and other drugs. Both tell snippets of their stories in a documentary, "The Anonymous People," and in chapters in a book, "Many Faces One Voice: Secrets from 'The Anonymous People.'"
McDaid's work is national. She helped organize a coalition of more than 300 organizations that successfully pushed for a 2008 parity law that requires health plans to cover treatment for mental health and substance abuse at the same level other health problems are covered. McDaid is working on another bipartisan bill, the Comprehensive Addiction and Recovery Act, legislation that seeks more funding for addiction programs and services.
"You ought to write about her," said Shinholser, who served in the Marines and who ran a painting contracting firm for years before co-founding McShin. It is only with his wife's support that he was able to take that step to start the organization, he said.
"We were a two-income family. When I left a very well-paying contracting business to start McShin, nobody paid me to go do that," Shinholser said. "Which meant that she would have to carry the lion's share of the financial commitment to the house."
One premise of "The Anonymous People" is that by shedding anonymity and by exposing just how many people are in recovery, only then will recovery lose its stigma.
"It also tells a story of why are we scared of our disease," Shinholser said.
"We are scared to talk about our disease. The anonymous programs reinforce that shame. Part of the movie was about don't reinforce shame. If people want to speak out, let them," he said.
At McShin's core is grass-roots, peer-to-peer support and structure. Trained recovery coaches work with those who come for help.
"We're not a counselor. We're not a 12-step sponsor. We're not a clergy. A coach is like a recovery navigator," Shinholser explained. "We have people in recovery who help people find recovery and get recovery. We help them navigate where to go."
One option is sending them to a doctor for detox medication. Dr. James E. Thompson, who runs Clean Life Medical, is an internist who specializes in addiction medicine and is on the McShin Foundation board.
"All of our staff are trained and certified recovery coaches, trained by our certification institute," said Shinholser, presenting a copy of a training manual developed by the foundation and available online to download.
"The McShin Foundation, we were the first ones in Virginia to certify our substance abuse disorder recovery coach peer leaders. Now, the state just came out with their own certification process. The community services boards are going to hire people who pass their training," Shinholser said.
He notes, with some consternation, that the state does not recognize McShin Foundation certification.
"They have their own tax dollar-funded system of care, and they only want tax-funded agencies to utilize their system of care," Shinholser said. "Basically, it's a Kool-Aid drinking club, and we ain't invited."
The McShin Foundation has 55 beds in four recovery houses, three for men and one for women. The cost for a 28-day stay is $4,800. After that, people who want to keep staying pay about $125 a week.
According to McShin Foundation tax filings, the nonprofit foundation in 2013 had revenue of $653,900 and expenses of $539,849. The biggest revenue source was rental income from the fees people pay to stay in the recovery houses. Shinholser said revenue is probably up to about $800,000 annually, but if they collected all that they are owed, it would be about $2 million.
Shinholser as president and director that year had compensation of about $60,000.
In Virginia in 2013, according to the National Survey of Drug Use and Health, an estimated 488,000 people age 12 and older (about 7.4 percent in that age group) were dependent on or abused alcohol. An additional 165,000 people in that age group (about 2.6 percent) admitted to being dependent on or abusing illicit drugs.
Just a fraction are getting help. A 2013 survey of Virginians showed 22,838 people in substance use treatment, up from 20,846 in 2009.
Honesty Brackett Liller, McShin Foundation CEO since 2013, has been in recovery since 2007 and has worked full time at McShin since 2008.
She remembered one of the first times she talked to Shinholser, who loves to barbecue. He was at a pig roast. She had come to the facility a day or two before, but left. He told her to come back.
"I had been to other places. My plan was to detox off of heroin and move on. Something happened here," Liller said. "I had never been in such an environment where everyone is in recovery. Everybody is trying to stay clean from day to day, whether they have one year or 10 years in recovery."
They try not to turn people away. Shinholser, on a recent Friday, had just stepped out of a recovery coach training class when he was cornered in the hallway by three staff members. A family had called seeking help for a woman who is on heroin, but the family didn't have any money.
Shinholser told them "Do what you would do if I wasn't here." But one staff member is adamant that he weigh in because of the money issue. She does not want it to come back on her when at the end of the month the books don't balance. The three McShin employees, all women, stood firm.
Shinholser relented, telling them the woman can come and hang out at McShin during the day, go to meetings, talk to peer recovery coaches, at no cost, which anyone can do. But she cannot stay in a recovery house. Have her stay in a homeless shelter at night, he said.
That way, she can get a taste of what awaits her if she does not get clean.
It turned out a little differently, Shinholser said later, with the woman showing up with her mother, her daughter and a couple of friends.
"They showed up with the whole family in tow … a family that is highly motivated and gung-ho to cooperate with us," he said. "I'm knowing, at the moment, we either jump now or lose it. We jumped, and it's going good today."